Ms. M, Benny and Robyn came to visit us this past weekend. Maddie and David met once before but this was the first time that they have been able to interact. David was a very good boy and shared his toys with Maddie. She is a pro at the jumparoo! David saw that she was sitting up and scooting around the floor that it motivated him to try it out. He will sit up for a while but if he gets excited and moves then he loses his balance.
This is David and Maddie on Saturday afternoon after our trip to Center City for lunch at the Reading Terminal. We have been in Philadelphia for over a year and a half and had never been over there. I ate lunch at Carmen's Famous Hoagies and had the BEST Italian hoagie EVER! They have different food places, fresh meats and fish and fruits and veggies. It is like and indoor farmers market. It was really cool and we had a good time hanging out. It was NOT fun however, walking to and from the parking garage as it was low 30's but with a wind chill that made it feel in the teens. Downtown Philadelphia is like one giant wind tunnel.
For dinner we decided to try out
Nifty Fifty's
(home of the Worlds Largest Soda Fountain). The fries were so good. I would go back just for the fries. Benny enjoyed his Chocolate Cherry Cola and Robyn and the Doc enjoyed their milkshakes. It's a really fun place to take kids to, there is mini golf (in the warmer weather) and an arcade on site.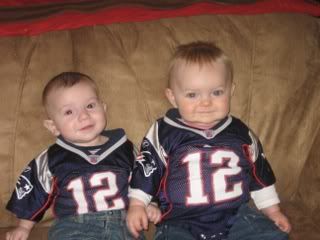 On Sunday David and Maddie got ready for the big game against the Colts. We all thought for sure that it was going to be a happy ending after the first half but then we had to put the kids to bed and the team fell apart. The Doc was half serious when he told me to wake David up and bring him back downstairs! I suppose it is Uncle David's turn to be happy for once! GO BEARS!
DA BEARS, DA BEARS, DA BEARS, DA BEARS, DA BEARS....
Other than that it was a great weekend and we can't wait to bring David to DC to and then Maddie can show David around her neck of the woods!