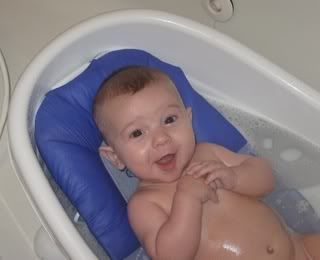 But here is David LOVIN' tubby time! Today David is 5 Months old. I can't believe it has already been five months. Up until this morning David and tubby time have not been the best of friends. He has never been a fan of the water. However, when I put him in the tub this morning he didn't cry. Instead he did something I have never seen him do in the tub - he gave me the biggest smile!
I thought for sure it was a fluke but I ran into the next room to get the camera anyway and he just kept on grinning! Without this picture there was no way that the Doc would believe that he enjoyed his tubby this morning. Of course I am not holding my breath that the next time he'll be just as happy because old habits die hard.
Here is a look back at David's tubby time pictures from the last 5 months:
David's first tubby time: September 9, 2006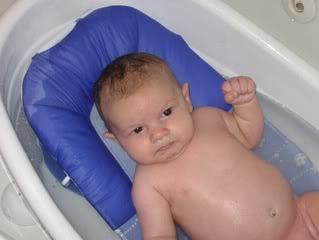 Really not happy about tubby time: October 10, 2006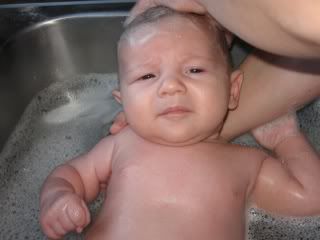 David's first tubby time in the sink at MIL & FIL's: October 21, 2006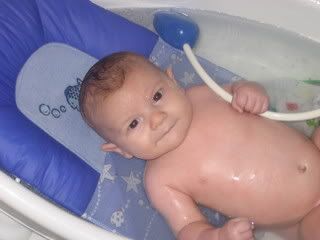 Almost smiling during tubby time: October 24, 2006
David loves tubby time: January 9, 2007
It's been an interesting five months. For the most part David is a very happy boy! He is even happy in tubby time (maybe!). He rolls over by himself, he is eating solid foods and babbles non-stop. Our favorite thing he does is when we say "Hi" he tries to make the same noise. If we say "Good Morning David" he says Goo. He loves to stand in his exersaucer and he even likes to entertain himself on his play mat. Now if only we can get him to sleep through the night...