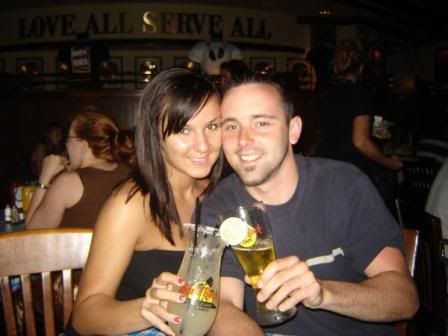 Pictured here is my brother David. Not to be confused with the baby. Pictured with my brother is his girlfriend Krystal. Aren't they cute! Awwwwwww. They just got back from Miami on Sunday. I know lucky huh! It was brought to my attention that I had never posted any pictures of them and so here it is. During their visit - they spent some time at Universal Studios and at Busch Gardens. My brother who is 21 years old mind you - refused to go on any roller coaster until he was allowed to see the giraffes. I know what your thinking - what is he - 8 years old?! Apparently that didn't bother him. So they went to the Animal Zoo area of Busch Gardens and he was happy as a clam.
They like to drink - as you can see from the above picture. A tip for those planning on a trip to the amusement park...a lot of alcohol the night before = hung-over = queasy on the roller coasters. Let's just say that Back to the Future was not as fun as it may have been sober!
However probably the thing I am most jealous about is that my baby brother and his girlfriend got to meet the newest member of the Miami Dolphins. Quarterback extraordinaire Daunte Culpepper. Lucky! Pictured above is Krystal and Daunte. Apparently he took a liking to her! My brother was able to shake his hand but didn't bother to get his autograph for his big sister who loves football more than life itself. Thanks a lot bro! He said it would've been on a napkin and that would've been lame. Um hello, it wouldn't bother me how lame you look if it meant that I got an autograph! Ah well - a picture is much better anyway!
Glad that you guys had fun and hope this post makes up for the fact that I didn't return your call while you were vacationing!