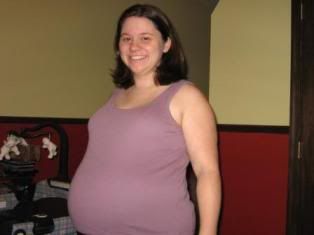 Here I am at 36 weeks...the Doc and I came up with some adjectives to describe my size: voluminous, hefty, king sized, packed, prodigious, vast & heavy duty. These days I refer to myself as the Hungry Hungry Hippo. You can see the comparison from the picture below.
I can't stop eating. Let me give you an example of how much I can eat these days! Today for breakfast I had two eggs over easy and an english muffin. Then we decided to go see a movie and on the way we went to Wendy's and I had a Jr. Cheeseburger and a medium fry.
We saw Pirates of the Caribbean: Dead Man's Chest and we got a large popcorn which is a tub at this theater.
Then we walked around the mall and went to the Cheesecake Factory for dinner and you can bet there was cheesecake involved and no I didn't share. I have never been so hungry in all my life. All I want to do is eat. At this rate you can just start calling me Shamu...
Four more weeks to go!