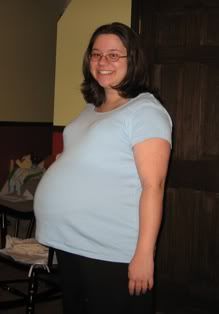 So...here we are 39 weeks - and all I have to show for it is fat swollen feet/ankles, fat belly, fat fingers, fat pretty much everything. The forecast for tomorrow in Sunny Philadelphia - 100 degrees, hazy, hot and humid. You've got to me effin' kidding me.
Today's appointment went well. No contractions, no signs that this baby is ever going to leave so I had no choice but to sign the eviction notice for this weekend. Just waiting for a call from the doctor to confirm an exact date and time. David seems all too comfortable right where he is so induction it is. Unless he decides to change his mind and arrive on his own beforehand.
I thought my luck had changed when my blood pressure sky rocketed to 138/80. As a precaution I was sent over to Labor & Delivery to be monitored in the PEC (Perinatal evaluation Center). I was hooked up to a high tech BP monitor and I sat there for two hours so they could tell me - OK you can go now. What?!! Are you sure I don't have pre-eclampsia??! Anything to get this baby out of me!! So not only is David not cooperating but neither is my BP. So unfair!
Tomorrow is my last day at work for a while and I will enjoy my last couple of days by sleeping. I plan to sleep as much as I can so that come baby day - I won't be exhausted. More updates to follow...sorry to those who have lost the baby pool - I was REALLY pulling for you!!